Unapologetically conservative (from a contemporary perspective), liberal (from a historical perspective), an-cap libertarian (from a political pespecive), complementary (from a gender perspective) and Austrian (from an economic perspective).
After years of trading and reading on the economy and finances, I decided to start sharing my perspective on certain issues at hand, hoping to stir thought. The goal isn't to indoctrinate, but educate in an effort to help people think about things they may never have before; or at least provide fresh perspective if they have.
I'm just Another Joe. But I suppose I'm Not Your Average Joe. You might see me pop up on forums here and there, where I share a piece of my
...
More
mind, whether I can afford to or not. I want to help people think through the implications of the times. And, due to my own ignorance, known or unknown, I'll get some things wrong. There will be plenty of opportunity to correct me in this regard as well.

In an effort to live a freer life, I'm building a business in Chile. For those interested, we offer immigration services, including permanent residency, consulting, Spanish lessons, real estate services and more. Check out Chile.EscapeArtist.com.
Description: Writer. Trading frequency: Infrequent
Interests: Gold, Options, Stocks - long

Email:
Location:

Valparaíso; Chile
EscapeArtist Chile
EscapeArtist has served the expat and tourism community for 20 years, offering unparalleled insights and opportunities for anyone looking to travel or move abroad. Recently our team of experts joined the EscapeArtist family to provide services and information specifically related to Chile. To learn more,
...
More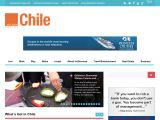 EscapeArtist Chile
After several years of writing for various financial resources and seeking opportunities abroad, Chile has opened up to provide a means to both help others and develop a life abroad. Our goal is to help others to be freed from the constraints of their current circumstances, sociological, geographical,
...
More

Asset Protection: ...in Financially Unsafe Times
Two of the nation's foremost asset protection planners pool their collective knowledge to bring you Asset Protection ...in financially unsafe times. The result of over 3 years of extensive research, "Asset Protection ...in financially unsafe times" is the most comprehensive, up-to-date book on asset
...
More
Latest comments on Another Joe's Articles