Aram Durphy, JD is Liberty Hill Investing's portfolio manager and principal. Mr. Durphy received his J.D. in 2003 from the University of California, Davis School of Law. He entered law school as a Regents Scholar, and while there he was awarded the prestigious Downey Brand Scholarship. Prior to founding Liberty Hill, Mr. Durphy practiced complex litigation as a consumer protection attorney for the nationally recognized firm Bramson, Plutzik, Mahler & Birkhaeuser, LLP. In 2006, he left Bramson Plutzik to start his own investment management firm in San Francisco. Mr. Durphy is deeply rooted in value investing and spends much of his time on fundamental equity, microeconomic, and macroeconomic research. He lives with his
...
More
wife and daughter in Oakland, California.
Description: Registered Investment Advisor (RIA). Trading frequency: Monthly
Interests: Stocks - long

Ph. Number:

(415) 426-3532
Location:

CA; USA
Liberty Hill Investing, LLC
Liberty Hill Investing, LLC was founded in 2006 by value investor Aram S. Durphy, JD to provide independent financial strategy advice, retirement planning, and investment management services to individuals and families. Through careful research, and a disciplined value approach to investing, Mr. Durphy guided
...
More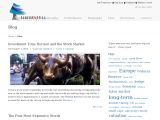 Value Investing in San Francisco
Written by value investor Aram Durphy, this blog covers investing strategy, stock and bond market updates, economic analysis, money management, fee-only investing, and many other topics.
Currently, you have no book details. Click edit to add book details.
Latest comments on Aram Durphy's Articles