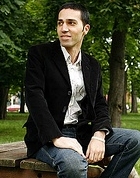 Babak
x
Author Following Options:
See their articles on your Seeking Alpha homepage and in your feed.
Real-time alerts on this author
Get their new articles emailed to you as they are published.
Daily digest on all my authors
Get all your favorite authors' new articles emailed to you in one daily digest.
Send Message
Babak's blog, tradersnarrative.com (http://www.tradersnarrative.com/), mainly covers the U.S markets but also dabbles into European and Canadian markets - with special attention given to the income trust market in Canada. Within the U.S. markets, most of his attention is concentrated on timing, sentiment and new ways of analyzing and trying to understand markets.
Babak used to be quite active on trading messageboards but after the noise to signal ratio got out of whack, he decided to instead dedicate his time and resources to a blog where he would have more control and interact with others on his own terms.
Other than selfish reasons, Babak created his blog as a way to give back in some small way and
...
More
repay his debt to the many others who have given so generously of their time and talents. Since he didn't have a mentor to guide him when he started out, he is hoping that this blog will help others who are considering the same journey. While he doesn't regret not having a mentor, because it allowed him to grow and find his own individual path, he admits that it would have been nice to have a nudge here and there to cut down on time spent pursuing dead ends and reading useless books (cough Bernstein cough).

In his free time Babak enjoys trapping mimes in plexiglas cages, then watching from a distance to time how long it takes passers-by to figure it out.
Description: Occasional Investor. Trading frequency: Infrequent
Interests: Stocks - short
Currently, you have no company profile. Click edit to add a company profile.
Currently, you have no blog details. Click edit to add blog details.
Currently, you have no book details. Click edit to add book details.
Latest comments on Babak's Articles