We are very excited to have teamed up with demographic experts Ken Gronbach and Nick Eberstadt to publish the Age Curve Report.
This is an in-depth monthly demographic and stock market report that examines today's "Generational Opportunity" in equities. Our 2009 archive and our 2010 Market Outlook are free and available for download to non-subscribers on our web site:
www.theagecurvereport.com
We believe the current "Generational Opportunity" is similar to 1860, 1900, 1940 and 1975. All were periods of consensus gloom and doom, and proved to be a missed opportunity by many. Real dangers still exist and we are not saying it is risk free investing from here on out. There
...
More
will be testing periods ahead in the coming years of this "Generational Opportunity" and we believe a useful historical road map could be 1975 to 1982, but with a deflation and not inflation back drop.

The Age Curve Master Portfolio model was created to help subscribers of The Age Curve Report measure the success of combining our "Back to Basics" money management style with a simple but disciplined approach to research.  The model Beacon Master Portfolio, which as on February 12, 2009 is up nearly 75.8 percent versus its S&P Global 100 benchmark return of 17.9 percent, since December 5, 2008.

This model also allows subscribers of our demographic and investment report–The Age Curve Report–to quickly understand our current investment stance, and gives an in-depth analysis of undervalued companies that are benefitting from today's generational demand. It also allows readers to review its past and current holdings, monitor its performance and highlight sectors of the market that are undervalued and under believed on a generational basis.

"If real wealth is to be created, it has to be invested generationally." Scott Minerd, chief strategist at Guggenheim Partners 

For further up-to-date information on the further progress of the model Beacon Master Portfolio please go to 3 Beacon Blog or subscribe to our Age Curve Report.

www.theagecurvereport.com
Description: Newsletter author. Trading frequency: Weekly
Interests: Bonds, Dividend stock ideas & income, ETFs, Forex, Stocks - long, Tech stocks

Ph. Number:

902-273-2431
Location:

NS; Canada
The Age Curve Report
Beacon Asset Managers has teamed up with Age Curve Consulting to publish an in-depth, monthly demographic and stock research report. The Age Curve Report will help you identify new demographic and stock sector trends, and combines our 3 Beacon research disciplines to help you stay ahead of the crowd while
...
More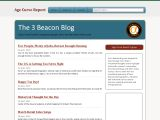 3 Beacon Blog
The 3 Beacon Blog was designed to share the tenets of our investment approach–the three beacons of demographics, valuation and sentiment–on a timely basis to demonstrate how these tools can be used to both discover undervalued assets and to ensure preservation of capital during times of economic stress. Most
...
More

The Age Curve
For years marketers have held on to unwavering beliefs that have dictated how they market to their consumers. But the hard truth is that the changes we see in marketing and business are based on one undeniable factor–the size of the generations we are selling to. As each generation ages what they buy and how
...
More
Latest comments on Beacon Asset Managers's Articles