Founder and Portfolio Manager – Bob has been trading options for himself and private clients for more than ten years. He uses a unique combination of technical indicators to find the best trending stocks that exhibit enormous velocity and ferocious movement. He often gets in front of these moves before they happen.
Patience is Bob's greatest trait – the chart pattern being the only reason to enter/exit a trade. Prior to this venture Bob managed portfolios for bigtrends.com, turning Grandslam and Extreme Options into the strongest performers in the company.
Prior to Bigtrends, Bob worked with floor traders at Countrywide Capital, which came after Aztec Partners Limited Partnership. In the 90′s he managed
...
More
the Sunkist Growers 300 million dollar pension fund. You can email Bob directly at bob@explosiveoptions.net if you have any other questions.
Description: Newsletter author. Trading frequency: Daily
Interests: Options

Ph. Number:

805-990-1441
Email:
Location:

CA; USA
Explosive Options
Here's a little more about our options trading newsletter service. We Know What You Really Want And it's to hear what our customers say about us. We have some other stuff to say for ourselves, too. So that's below. First and foremost, thanks for visiting Explosive Options and your interest in our
...
More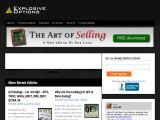 Currently, you have no book details. Click edit to add book details.
Latest comments on Bob Lang's Articles