Brad Ferris is the author of Triage Investment Blog and President of Triage Capital Management Incorporated.He is 30, lives in London Ontario Canada and holds a Graduate Diploma in Business Administration Marketing as well as a Bachelor's of Science in Nursing. Brad is also a practicing Registered Nurse.Brad has been investing independently over the past thirteen years and has developed a truly unique perspective on equity markets, security analysis and fundamentals of portfolio construction that combine his education, personal and professional experiences into a productive and successful approach. His ability to critically assess companies can be seen both in his writing and professional experiences where he applies his
...
More
knowledge for the benefit of his readers and clients.
Description: Full-time Investor. Trading frequency: Weekly
Interests: Bonds, Dividend stock ideas & income, ETFs, Mutual funds, Retirement savings, Stocks - long

Triage Capital Management Incorporated
Triage Capital Management Incorporated is a Canadian based privately held corporation located in London Ontario that provides products and services to individual businesses and investors.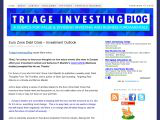 Triage Investing Blog
Triage Investing Blog was created in May of 2007 as a method of documenting the investing activities, stock analysis techniques, market perspectives, investing discipline and Value RulesTM of author Brad Ferris on value, dividend growth and healthcare investments.Brad's investing discipline is guided by a set
...
More
Currently, you have no book details. Click edit to add book details.
Latest comments on Brad Ferris's Articles