Brad Thomas
x
Author Following Options:
See their articles on your Seeking Alpha homepage and in your feed.
Real-time alerts on this author
Get their new articles emailed to you as they are published.
Daily digest on all my authors
Get all your favorite authors' new articles emailed to you in one daily digest.
Send Message
Brad Thomas currently writes weekly for Forbes and Seeking Alpha where he maintains research on many publicly-listed REITs. In addition, Thomas is the Senior Analyst at iREIT Forbes and Editor of the Forbes Real Estate Investor, a monthly subscription-based newsletter.
Thomas has also been featured in Forbes Magazine, Kiplinger's, US News & World Report, Money, NPR, Institutional Investor, GlobeStreet, and Fox Business. He was the #1 contributing analyst on Seeking Alpha in 2014 (as ranked by TipRanks) and he is currently writing a book on the legendary investor Donald Trump. In addition, Thomas is co-authoring a book on REIT Investing to be published in 2016.
Thomas received a Bachelor of Science
...
More
degree in Business/Economics from Presbyterian College where he played basketball. He resides in South Carolina with his wife and kids.
Description: Investment Banker/Analyst. Trading frequency: Infrequent
Interests: Bonds, Dividend stock ideas & income, REITs, Stocks - long, Stocks - short

iREIT Investor Forbes
Brad Thomas is the Editor of the Forbes Real Estate Investor and Senior Analyst at iREIT Investor Forbes.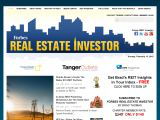 Latest comments on Brad Thomas's Articles
Latest Articles on Financial