Bret Jensen
x
Author Following Options:
Finding tomorrow's big winners in the lucrative biotech sector
Learn more»
See their articles on your Seeking Alpha homepage and in your feed.
Real-time alerts on this author
Get their new articles emailed to you as they are published.
Daily digest on all my authors
Get all your favorite authors' new articles emailed to you in one daily digest.
Send Message
Editor for The Biotech Forum, the #2 subscribed to Marketplace investment service offered through SeekingAlpha. Top 5% ranked analyst (TipRanks) since 2013. Daily contributor for Real Money Pro. Hedge fund manager from 2008 to 2011. Previously technology executive at Fortune 100 firm for a decade.
Please go to biotechforumsa.com for more on the Biotech Forum service available through SeekingAlpha.
Description: Full-time Investor. Trading frequency: Daily
Interests: Dividend stock ideas & income, ETFs, Energy stocks, Options, Stocks - long, Stocks - short
Investors Alley
Investors Alley is an investment research publisher providing unbiased actionable investing and trading advice to individual investors. I serve as the lead analyst for small cap and turnaround stocks and serve as the editor for newsletters covering both. Newsletter issues contain independent, vetted
...
More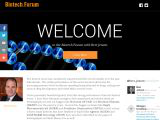 Biotech Forum
A monthly service available through Seeking Alpha that profiles and manages an optimized and well-diversified biotech portfolio. The portfolio will consist of my top five large cap names along with the best 15 promising but speculative small cap selections in the volatile but lucrative biotech sector.
Currently, you have no book details. Click edit to add book details.
$
THLD
Definitely worthy of consideration for the SmallCapGems (smallcapgems.com) portfolio
Dec 27, 2014
Latest comments on Bret Jensen's Articles
Latest Articles on Healthcare