Brian is the founder and lead writer for INVESTOR IN THE FAMILY LLC and All-Star contributor at Scutify.
At INVESTOR IN THE FAMILY LLC (http://investorinthefamily.com/), Brian maintains an active portfolio for subscribers in addition to publishing research for readers on Seeking Alpha. His focus at present is on opportunities in solar, tech, natural gas and other trends he sees potential in.
Brian is a long-term focused investor, but is also very willing to take some "risks" when great opportunities seem to present themselves.
Description: Occasional Investor. Trading frequency: Weekly
Interests: Commodities, ETFs, Emerging Markets, Energy stocks, Gold, Options, Retirement savings, Stocks - long, Tech stocks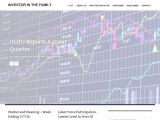 Investor in the Family
The goal of INVESTOR IN THE FAMILY is to help people find financial success through investing. My research and writing aims to find companies with the potential to double in a 2-3 year time frame. At INVESTOR IN THE FAMILY, we work to educate and train new investors as we give solid research and market
...
More
Currently, you have no book details. Click edit to add book details.
Latest comments on Brian Bain's Articles