Brian Nelson is the President of Equity Research at Valuentum Securities. Before founding Valuentum in early 2011, Mr. Nelson worked as a director at Morningstar, where he was responsible for training and methodology development within the firm's equity and credit research department. Prior to that position, he served as a senior industrials securities analyst, covering aerospace, airlines, construction and environmental services companies. Before joining Morningstar in February 2006, Mr. Nelson worked for a small capitalization fund covering a variety of sectors for an aggressive growth investment management firm in Chicago. He holds a Bachelor's degree in finance and a minor in mathematics, magna cum laude, from
...
More
Benedictine University. Mr. Nelson has an MBA from the University of Chicago Booth School of Business and also holds the Chartered Financial Analyst (CFA) designation. He is best known in the financial industry as being the "Father of Valuentum Investing."
Description: Small business owner. Trading frequency: Monthly
Interests: ETFs, Options, Stocks - long, Stocks - short

Ph. Number:

708-653-7546
Email:
Location:

IL; USA
Valuentum Securities
Valuentum Securities Inc. is an independent investment research provider, offering premium equity reports and dividend reports, as well as commentary across all sectors/companies, a Best Ideas Newsletter (spanning market caps, asset classes), a Dividend Growth Newsletter, business/investing book reviews
...
More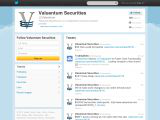 The Case for the Valuentum Style of Investing
The benefits of value and momentum strategies on an individual basis have been well-documented in financial literature. Academic research has also concluded that a simply-constructed portfolio consisting 50% of a long-short value-oriented portfolio and 50% of a long-short momentum-oriented portfolio produces
...
More
Latest comments on Brian Nelson's Articles
LATEST ARTICLES & INSTAPOSTS
more »