Timothy Lutts heads one of America's most respected independent investment advisory services, publishing 11 advisories to over 250,000 subscribers around the world. He leads a dedicated team of professionals who serve investors with high-quality investment advice based on time-tested Cabot systems. Tim is also the chief analyst of Cabot Stock of the Month.
A growth stock and market timing expert, Michael Cintolo is chief analyst of Cabot Market Letter and Cabot Top Ten Trader. Since joining Cabot in 1999, Mike has uncovered exceptional growth stocks and helped to create new tools and rules for buying and selling stocks.
A researcher and writer for over 30 years, Paul Goodwin has been a member of the
...
More
Cabot investment team and chief analyst of Cabot China & Emerging Markets Report since 2005. Paul is also the editor of the Cabot Wealth Advisory, a free email newsletter that offers independent, no-nonsense investment advice on how to build long-lasting wealth from Cabot's team of analysts and editors.

J. Royden Ward applies his 40 years of investment research and portfolio management experience to his role as chief analyst of Cabot Benjamin Graham Value Letter. He developed a computerized model of stock selection based on formulas created by investment legend—and Warren Buffett mentor—Benjamin Graham.

Jacob Mintz is a professional options trader and chief analyst of Cabot Options Trader. Using his proprietary options scans, Jacob creates and manages positions in equities based on risk/reward and volatility expectations. Jacob developed his proprietary risk management system during his years as an options market maker at a top-tier options trading company in Chicago.

Chloe Lutts Jensen is the chief analyst of Cabot Dividend Investor, and the third generation of the Lutts family to join the family business. She developed Cabot's proprietary Individualized Retirement Income System (IRIS) and Cabot Dividend Investor to deliver income-oriented advice that could provide both high income and peace of mind to investors thinking about retirement.
Description: Newsletter Author. Trading frequency: Daily
Interests: Developed International Markets, Dividend stock ideas & income, Options, REITs, Retirement savings, Stocks - long, Tech stocks

Ph. Number:

978-745-5532
Location:

MA; USA
Cabot Heritage Corporation
Cabot Heritage Corporation is one of the oldest and most respected independently owned financial newsletter companies in the U.S. The company was founded in 1970 to provide honest, high-quality research and investment advice to individual investors and investment professionals. Today, the Cabot family of
...
More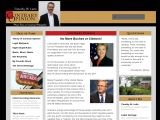 Contrary Opinion
Join Timothy Lutts as he explores contrary opinion in investing and in life.
Currently, you have no book details. Click edit to add book details.
Latest comments on Cabot's Articles