Capitalist Exploits is a team of globe-trotting professionals dedicated to seeking out and investing into unique, undiscovered, and profitable opportunities worldwide. This could be an asymmetric trading opportunity in the global currency markets, seeding a tech startup in Israel, or co-investing into a bespoke private equity deal in Ghana!
Our team lives and spends time in several different countries, on several different continents. Although we all come from different cultural backgrounds and parts of this great ball of dirt hurtling through space, in today's world this matters little, as our values and mission are all aligned.
Description: Other. Trading frequency: Infrequent
Interests: Bonds, Commodities, Developed International Markets, Emerging Markets, Energy stocks, Gold, Options, Stocks - long, Stocks - short, Tech stocks

Capitalist Exploits
Our Mission: Educate and enlighten Capitalists around the world to the exciting opportunities available in Frontier Markets by bringing our collective thoughts to the table, and by collaborating with our network and the Capitalist Exploits community. When first becoming involved in investing in small
...
More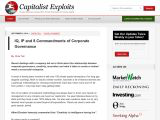 Capitalist Exploits
When first becoming involved in investing in small non-listed companies, providing seed capital to small businesses and investigating entrepreneurial deals we scoured around for advice on how to put all the pieces together.How best do you put together contracts, how do you evaluate a deal where you're looking
...
More
Currently, you have no book details. Click edit to add book details.
Latest comments on Capitalist Exploits's Articles