Daily Capital offers insightful commentary on wealth management and financial planning from the advisory team at Personal Capital as well as independent financial experts. With custom-curated financial news aggregated from more than 500 trusted sources, combined with original content from well-known personal finance bloggers, Daily Capital gives investors a well-rounded view of what's happening with the markets and their money – all day, every day.
Description: Journalist.
Interests: ETFs, Mutual funds, Retirement savings

Personal Capital
Personal Capital provides users with a free tool for managing and tracking their finances. Unique software creates a complete view of a user's spending habits, income sources, investments, and asset allocation. Expert financial advisors are available to provide investment advice to those who want it, and are
...
More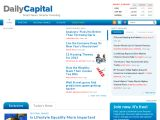 Daily Capital
Daily Capital provides market and economic commentary from the advisory team at Personal Capital, along with carefully aggregated content from around the web. Several well known bloggers also contribute content on a regular basis. Daily Capital aims to help readers make well-informed financial and investment
...
More
Currently, you have no book details. Click edit to add book details.
Latest comments on Carla Fried's Articles
LATEST ARTICLES & INSTAPOSTS
more »