Bill Watkins, Ph.D. is Executive Director of the CLU Center for Economic Research and Forecasting (CERF). Prior to CERF, Bill Watkins ran the UC Santa Barbara Economic Forecast Project for ten years as Executive Director. He expanded the geographic scope of its core regional forecasting activities, and developed extensive consulting expertise. Immediately prior to joining the UC Santa Barbara, Dr. Watkins was an economist at the Board of Governors of the Federal Reserve System in Washington D.C. where he worked and performed research in the Monetary Affairs Division. Bill received his Ph.D. in Economics from UC Santa Barbara in 1998. He has been published in academic journals and in the popular press. He is often
...
More
interviewed and quoted by various media.

Kirk M. Lesh, M.B.A., is a Senior Economist at the Center for Economic Research and Forecasting (CERF) at California Lutheran University. In addition to his work at CERF, Mr. Lesh is finishing his Ph.D. dissertation at the University of California, Santa Barbara. Mr. Lesh earned his M.B.A. from the University of California, Irvine in 2000 and holds undergraduate degrees in Finance and Economics from the University of Colorado, Boulder.

Dan Hamilton Ph.D has 13 years of experience at producing forecasts and consulting. He did this type of work for three years at the WEFA Group, and for ten years at UC Santa Barbara. He has professional database and forecasting experience with world, national, regional, and city-level economic and demographic data. He has been responsible for forecasting areas in Asia, Africa, and in the United States. Dan has extensive experience with both Macroeconomic modeling and Industry-by-industry modeling. He is a professor at Cal Lutheran University teaching macroeconomics, time-series econometrics, and modeling in their M.S. Economics program.
Description: Professor. Trading frequency: Infrequent
Interests: Bonds, Stocks - long, Tech stocks
Ph. Number:

(805) 493-3846
Email:
Location:

California; U.S.A.
Center for Economic Research and Forecasting
The Center for Economic Research and Forecasting (CERF) at CLU is a recently formed group of three economists with extensive professional experience in forecasting and consulting. The center provides regularly updated forecasts of the United States, California, Oregon, and Ventura County economies. We also
...
More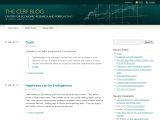 The CERF Blog
The CERF blog contains almost daily blogs on important U.S. data releases, (GDP, CPI, jobs, unemployment rate, etc), as well as market commentary, and analytical essays on current macroeconomic policy and the economic outlook.
Currently, you have no book details. Click edit to add book details.
Latest comments on CERF's Articles