Charles Lewis Sizemore, CFA is the Chief Investment Officer of Sizemore Capital Management LLC, a registered investment advisor. He has been a frequent guest on Bloomberg TV and Fox Business News, has been quoted in Barron's Magazine, The Wall Street Journal, and The Washington Post and is a frequent contributor to Forbes Moneybuilder, GuruFocus, MarketWatch and InvestorPlace.com.
Charles holds a master's degree in Finance and Accounting from the London School of Economics in the United Kingdom and a Bachelor of Business Administration in Finance with an International Emphasis from Texas Christian University in Fort Worth, Texas, where he graduated Magna Cum Laude and as a Phi Beta Kappa scholar.
Description: Registered Investment Advisor (RIA). Trading frequency: Monthly
Interests: Bonds, Dividend stock ideas & income, ETFs, Mutual funds, REITs, Retirement savings, Stocks - long, Tech stocks

Ph. Number:

972-265-6597
Email:
Location:

TX; USA
Sizemore Capital Management
Sizemore Capital Management is a fee-based Registered Investment Advisory firm based in Dallas, Texas offering investment planning and money management services to individuals, families and institutions. Services offered include Money Management and Asset Allocation strategies for individuals and families:
...
More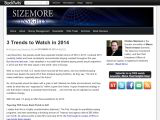 Sizemore Insights
Sizemore Insights is a free weekly service by Charles Sizemore, Chief Investment Officer of Sizemore Capital Management.

Boom or Bust: Understanding and Profiting from a Changing Consumer Economy
No one will ever be able to predict every twist and turn in the economy or in the financial markets. But over the medium and long terms, the economy is surprisingly predictable. By studying demographics and other key factors, accurate forecasts can be made for individual industries, real estate markets, and
...
More
Latest comments on Charles Lewis Sizemore, CFA's Articles