The founding members of Chimera Research Group have over 50 years of combined experience in the biotech and pharmaceutical sector. Their experience includes work at Investment Banks, Hedge Funds, Pharmaceutical Companies, top-tier Universities, and the U.S. Food and Drug Administration (FDA). Their published work includes freelance and editorial contributions both print and on-line, clinical and medical research, books and tutorials, as well as contributions to on-line social media. Through these and other activities they were able to collaborate and connect amongst themselves to establish this cadre of like-minded biotech/pharma trading and investing aficionados.
The Team includes:
Chief Scientific
...
More
Analyst - Jason Chew

Chief Research Analyst - Patrick Crutcher

Chief Medical Analyst - Dr. Tro Kalayjian

CEO & Trading Analyst - Tony Pelz

Research Analyst - Dr. Andrew Goodwin

Research Analyst - Dr. Juan Pedro Rodríguez Serrate

Technical Analyst - Joe Gantoss

Research Analyst - Dr. Steven Murphy
Description: Newsletter author. Trading frequency: Daily
Interests: Options, Stocks - long, Stocks - short

Ph. Number:

323-STOCK3
Location:

NJ; USA
Chimera Research Group
Chimera Research Group provides completely independent and actionable investment and trading ideas backed by comprehensive fundamental research and analysis for listed companies in the biotech and pharmaceutical sectors. Our coverage primarily focuses on early stage companies with impending FDA and/or
...
More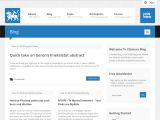 Chimera Blog
Chimera Blog is our FREE blog area, where our analysts and writers cover recent events in biotech and pharmaceuticals.

The Biotech Trader Handbook (2nd Edition)
Small cap biotech companies spend hundreds of millions of dollars and over ten years moving experimental drug candidates from concept to fully approved drugs. For late stage drug candidates, those in Phase III, positive or negative data can result in either massive gains or devastating declines in the
...
More
Latest comments on Chimera Research Group's Articles