Charles (Chip) Krakoff is publisher and principal author of the Emerging Markets Outlook blog, as well as founder and Managing Partner of Koios Associates LLC, a firm specialized in investment and trade, in emerging and frontier markets. He has over 25 years of corporate, financial, consulting, and entrepreneurial experience, and has worked in more than 50 countries in Africa, Asia, Europe, the Middle East, and North America, and speaks and writes French fluently.
Charles has served as an advisor to cabinet ministers, investment and trade promotion agencies, financial institutions, private and institutional investors, and senior corporate executives. His consulting clients have included over 20 corporations,
...
More
banks, consulting firms, and fund managers, including Morgan Stanley, Fidelity, Standard Bank of South Africa, D.E. Shaw, Deloitte, KPMG, and Tony Blair Associates as well as the World Bank and regional development banks, the European Union, DFID, USAID, The Millennium Challenge Corporation, and over 40 national and provincial/regional governments.

Charles earned an MBA in finance and international business from Columbia University, and a BA in anthropology from Reed College. He has lived for extended periods in ten countries in Asia, Africa, Europe, and the Middle East, in addition to the United States. His interests and hobbies include skiing, cycling, kayaking, hiking, literature, jazz and blues, and cooking.
Description: Occasional Investor. Trading frequency: Infrequent
Interests: Alternative Investments, Bonds, Developed International Markets, Dividend stock ideas & income, ETFs, Emerging Markets, Options, Stocks - long

Ph. Number:

1-978-263-7738
Email:
Location:

MA; USA
Koios Associates LLC
Koios International (pronounced co-EE-us) is a Mauritius- and U.S.-incorporated firm operating in over 50 countries, which specializes in investment, trade, and financial strategies and transactions in emerging and developing economies. Our head office is in Boston, U.S.A. and we have representative offices
...
More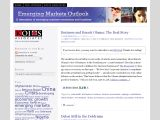 Emerging Markets Outlook
Emerging Markets Outlook discusses worldwide economic, political, and business news with a view towards its implications for trade, investment, and business in emerging, transition, developing, and frontier economies.
Currently, you have no book details. Click edit to add book details.
Latest comments on Chip Krakoff's Articles