Dr. Chris Martenson is an independent economist and author of a popular website, ChrisMartenson.com. His Crash Course video series explores the intertwining significance of the "three E's"—the economy, energy, and environment and offers articulate, dynamic insight into the workings of our monetary system.
Chris earned a PhD in neurotoxicology from Duke University, and an MBA from Cornell University. His background as an educator helps him animate complex material with wisdom and humor. A fellow of the Post Carbon Institute, Chris's work has appeared on PBS and been cited by the Washington Post. He is a contributor to the Huffington Post and FinancialSense.com.
Chris is an accomplished presenter who has
...
More
offered the Crash Course seminar all over the United States. The online course has been translated into several languages, and been viewed nearly a million times. His website offers ongoing commentary and rigorously factual analysis into financial and energy-related issues and events as they unfold.
Description: Newsletter Author.
Interests: Options

ChrisMartenson.com
Enrolled members at ChrisMartenson.com receive additional information that is not available to registered or public readers of the site. You will have access to additional in-depth reports and podcasts, get more detailed recommendations on how to protect your assets and your family's needs in case of further
...
More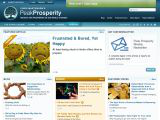 Peak Prosperity
Chris Martenson, creator of the widely-viewed video series The Crash Course, offers a daily dose of information on current market events that you won't get anywhere else.

The Crash Course
We are at one of the most profound moments in human history and most are unprepared mentally, physically, financially, or emotionally for what lies ahead. Money is loaned into existence and this simple yet profound 'feature' contains the seeds of its own demise. Such a system of money, by definition is
...
More
Latest comments on Chris Martenson's Articles