Chris Vermeulen the founder of AlgoTrades.net Algorithmic Trading Systems. This automated investing system is designed for individual investors and traders.
He is also the editor of the TheGoldAndOilGuy newsletter which is designed for gold market traders providing quality ETF Trade Alerts, daily videos, market forecasts, trading education, and commentary.
Follow My LIVE CHARTS: http://stockcharts.com/public/1992897
Description: CEO. Trading frequency: Daily
Interests: Commodities, ETFs, Gold, Stocks - long, Stocks - short
AlgoTrades Algorithmic Trading Systems
ALGORITHMIC TRADING - SIMPLE, SMART, LOGICAL INVESTING Investors love Algotrades, not only because it identifies markets trends and active cycles, and manages each trade for you; but also because AlgoTrades is just so easy to use. Our algorithmic trading system is built for individual investors or those
...
More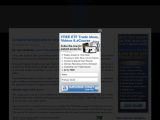 TheGoldAndOilGuy - Gold Market Traders
—– Your Source For Trading Ideas—-What Makes TheGoldAndOilGuy So Effective?If you trade Mutual Funds, Stocks, Options, ETF's, Futures or Currencies, the TheGoldAndOilGuy will keep you on the right side of the market and help you avoid serious investing mistakes.It's like seeing tomorrow's charts results
...
More

Technical Trading Mastery - 7 Steps To Win With Logic
This book, written for both traders and investors, explores the tools and techniques that discretionary and algorithmic traders need to profit in today's competitive markets. Divided into segments, this guide shows you how to incorporate simple logical trading strategies into a step-by-step checklist to
...
More
Latest comments on Chris Vermeulen's Articles