Chris Versace is the editor of PowerTrend Profits, a monthly investment newsletter that uses PowerTrends to select those companies best positioned to benefit from the shifting landscape of economics, demographics, psychographics and more. Mr. Versace also edits PowerTrader that also uses PowerTrends to select well positioned ETF, stock and and call-options as well as PowerOptions Trader, an options only trading service. Mr. Versace is a frequent contributor to Forbes.com, FoxBusiness.com, The Street and appears on a number of radio and TV programs.
The strategies inherent in PowerTrends were first developed by Mr. Versace during his tenure as senior vice president of equity research at Friedman Billings Ramsey,
...
More
where he produced award-winning, differentiated research coverage using an ecosystem perspective of the mobile phone industry and enabling component technologies across various material technologies, including RF semiconductors (RFID, GPS), LEDs and display technologies. Prior to FBR, Mr. Versace was an equity analyst at both Salomon Brothers and Donaldson, Lufkin & Jennrette.

Mr. Versace has been quoted extensively in the Wall Street Journal, Investors Business Daily, The Street.com, USA Today and other publications. He has participated in numerous industry panels, including the Northern Virginia Tech Council, We Media and others, and has appeared on Fox Business, CNBC, CNBC Europe, CNNfn and others news/business programs.

Mr. Versace earned bachelor's degrees in economics and mathematics at Fairfield University before earnings an master of business administration degree in Finance at Fordham University.
Description: Full-time Investor. Trading frequency: Weekly
Interests: Commodities, ETFs, Stocks - long, Stocks - short, Tech stocks
Ph. Number:

202-216-0600
Email:
Location:

DC; USA
Eagle Publishing
Chris Versace follows eight proprietary PowerTrends. A PowerTrend is a shift that shapes and impacts consumer behavior, forcing companies to make fundamental changes to their businesses in order to succeed. Some PowerTrends come from the bottom up where companies are racing to meet a rising consumer need,
...
More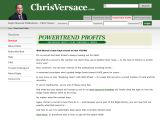 PowerTrend Profits
PowerTrend Profits is a paid monthly newsletter that helps individual investors profit through buying the companies poised to win big in the 8 PowerTrends.PowerTrend Brief, a free weekly e-letter from Chris Versace, is where he shares his thoughts on the most powerful trends affecting investments today
...
More
Currently, you have no book details. Click edit to add book details.
Latest comments on Chris Versace's Articles