Christian Magoon is the founder of YieldShares, the income focused ETF Sponsor behind the YieldShares High Income ETF (YYY). He is also chief executive of Magoon Capital, a firm which provides strategic advice on ETF product development.
Christian Magoon is an ETF insider, having launched over 50 ETFs in the United States to date. A widely recognized thought leader on finance and market issues, Christian is a Wall Street Journal Expert panelist, has been called an "ETF Jedi" by Ignites and was named "One of Five People To Watch" in the ETF industry by Institutional Investor.
Prior to forming Magoon Capital in 2010, Christian was President of Claymore Securities (now Guggenheim
...
More
Investments), where he built one of the fastest growing ETF businesses in the country, gathering more than $3 billion in AUM in three years. He launched a variety of ETFs, introducing many "firsts" to the U.S. market including the first Frontier Markets, Multi Asset Income, Timber, BRIC and suite of China focused ETFs.

Active in social media, @ChristianMagoon was named to the Wall Street Journal's 20 member list of "Best Tweets For Your Money," and dubbed a "Top 5 ETF Expert To Follow On Twitter," by ETF Database.
Description: Company executive.
Interests: Bonds, Commodities, Developed International Markets, Dividend stock ideas & income, ETFs, Energy stocks, Forex, Gold

YieldShares
YieldShares is the income focused ETF Sponsor of the YieldShares High Income ETF (YYY). For more information please visit www.YieldShares.com.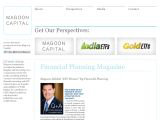 Magoon Capital
Magoon Capital perspectives come from the experience of chief executive Christian Magoon, an ETF insider and financial commentator. Having directed the launch of more than 50 ETFs to date, Christian has introduced many "firsts" to the U.S. market (e.g., Frontier Markets, Multi Asset Income, Solar Energy,
...
More
Currently, you have no book details. Click edit to add book details.
Latest comments on Christian Magoon's Articles