Clive Corcoran has been an independent trader, on both sides of the Atlantic, for more than 20 years. In recent years he has been engaged as a course developer and tutor, providing international executive education workshops and individual mentoring. He is also an FSA registered adviser and provides wealth management services and investment advice to private clients.
As an author he has written Long/Short Market Dynamics: Trading Strategies for Today's Markets (Wiley, 2007) and several titles for the Chartered Institute for Securities and Investment (CISI). A new book entitled Systemic Liquidity Risk and Bipolar Markets is scheduled for publication by Wiley Finance in December 2012
He has been a regular
...
More
analyst/contributor to CNBC Europe and other broadcast outlets, runs executive education workshops in conjunction with Euromoney, ICMA and Thomson Reuters, and has been a featured speaker at international trading and investment expos.
Description: Registered Investment Advisor (RIA). Trading frequency: Daily
Interests: Bonds, Commodities, ETFs, Forex, Stocks - long, Stocks - short

Technical Analysis Training
The course is designed to provide a comprehensive overview of the essential concepts and techniques of Technical Analysis as practised today by many analysts, fund managers and traders in the capital markets. It is expected that certain insights from the additional framework provided by technical analysis
...
More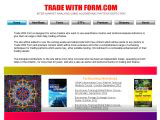 TradeWithForm
Clive Corcoran writes on markets and memes. His message is to make complex ideas as simple as possible but no simpler

Systemic Risk and Bipolar Markets
Asset price movements are much more correlated in contemporary markets. In turn, from an asset returns perspective, there is a notable shift in left tail dependencies across the whole spectrum of asset classes. This presents both challenges and opportunities to investors/traders. The biggest challenges are
...
More
Latest comments on Clive Corcoran's Articles