Dana Blankenhorn
x
Author Following Options:
See their articles on your Seeking Alpha homepage and in your feed.
Real-time alerts on this author
Get their new articles emailed to you as they are published.
Daily digest on all my authors
Get all your favorite authors' new articles emailed to you in one daily digest.
Send Message
Dana Blankenhorn http://www.danablankenhorn.com has been a business journalist since 1978, and a futurist all his life.He warned about the coming Houston oil collapse in 1979. He began making a living on the Internet in 1985. He launched the first e-commerce daily for CMP in 1994, warned of the coming dot-bomb at a-clue.com in 1997 and began covering the Internet of Things in 2003.Along the way he's written for a host of newspapers, magazines, news services and Web sites. Most recently he was at ZDNet, covering open source and health IT. He still has time for freelance assignments. He lives in Atlanta.
Description: Occasional Investor. Trading frequency: Monthly
Interests: Dividend stock ideas & income, ETFs, Retirement savings, Stocks - long, Tech stocks

Ph. Number:

404-373-7634
Email:
Location:

GA; USA
Dana Blankenhorn
Dana Blankenhorn is a writer, journalist, blogger and futurist, always looking for the next technology frontier, scouting it out for publications as they appear, and often moving on once the area is settled. Right now he's into solar and other forms of renewable energy. That's where our real economic growth
...
More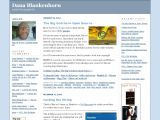 Dana Blankenhorn and the War Against Oil
Dana covers more than energy at this blog. Anything that no one else is buying goes into the hopper -- health, personal stuff, politics, you name it. Always done with the aim of provoking thought and looking to the future.

Moore's Lore: Better and Better, Faster and Faster
Moore's Lore aims to arm you with an understanding of how and why technology changes so quickly. By extending the Moore's Law metaphor to other areas it touches -- hard disks, optical fiber, and WiFi -- it also entertains and amuses. He also covers how Moore's Law changes have transformed a variety of
...
More
The "unicorn crash" is fun, since Seeking Alpha readers don't own any of it.
Nov 19, 2015
Latest comments on Dana Blankenhorn's Articles
Latest Articles on Long Ideas
Latest Articles on Fund Holdings