David Fessler is the energy and infrastructure expert for The Oxford Club, one of the world's most exclusive and prestigious networks of private investors. A prolific writer, David writes "Hot Stacked", a focused overview of the energy and infrastructure markets appearing monthly in the Communiqué.
David has appeared on the FOX News Channel. He was one of the first journalists to break the story on the commercial real estate crash.
He's also the managing editor of "Peak Energy Strategist", the Oxford Club's premium energy research service. In addition, he's a daily contributor to Investment U, the Club's free investment education division with more than 450,000 active subscribers. His articles are
...
More
syndicated widely. Seeking Alpha has listed Dave in the group of the top 100 fastest growing authors by readership.

Before retiring at the age of 47, David served as Vice-President for Strategic Business at LTX Corporation. He was also Vice-President of Operations, Sales & Marketing for Quality Telecommunications, Inc.



His success as an investor spans over 35 years in the technology and energy sector. He has owned and operated two successful businesses.

He's a degreed Electrical Engineer, and is a renowned specialist in the semiconductor, telecommunications, energy and infrastructure sectors.



David, his wife Anne, and their two sons, Jared and Noah live in a 200-year old stone farmhouse in northeastern Pennsylvania. An avid cyclist, David also enjoys fly-fishing with his sons, gardening with Anne, and woodworking.

Disclaimer: The Oxford Club and Investment U are entirely distinct and separate companies from Stansberry & Associates Investment Research. Their only common thread is a shared parent company, Agora Inc. Agora Inc. was named in the suit by the SEC and was exonerated by the court, and thus dropped from the case. Stansberry & Associates was found civilly liable for a matter that dealt with one writer's report on a company. The action was not a criminal matter. The case is still on appeal, and no final decision has been made.
Description: Newsletter author. Trading frequency: Daily
Interests: Commodities, Developed International Markets, Energy stocks, Options, REITs, Stocks - long, Stocks - short, Tech stocks

Ph. Number:

866.444.1514
Email:
Location:

Maryland; United States
The Oxford Club
The Oxford Club believes every investor deserves the chance to profit just as much as the top traders in Wall Street. That starts with advice from experts who understand what's really going on… The Oxford Club has not just one, but an entire team of experts, each with Wall Street experience, but independent
...
More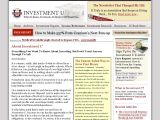 Investment U
It's a shame, really, that much of what is offered here – at no charge – is not taught in the public schools. Why is it that you can graduate in the top of your high school class and know next to nothing about credit card debt, adjustable-rate mortgages, or 401(k)s? Founded in 1999, the goal of Investment U
...
More
Currently, you have no book details. Click edit to add book details.
It now appears gold is severely overbought...
Aug 10, 2011
Latest comments on David Fessler's Articles