HORAN Capital Advisors (http://www.horancapitaladvisors.com) is an SEC registered investment advisor that manages investment portfolios for individuals and institutions. Our firm utilizes a disciplined investing approach that should create wealth for our clients over time. Our investment bias is to invest in companies that generate a steady return over time, i.e., singles and doubles. This singles and doubles approach tends to lead to investments in higher quality dividend growth/cash flow growth companies. On the other hand, there are times when a company's stock price seems to be trading below its fair valuation. Short term gains are possible in these situations. I have been managing investment portfolios for
...
More
individuals and institutions for over fifteen years and believe investing is like running a marathon and not a sprint. Taking the road less traveled, more often than not, leads to higher returns. Visit: The Blog of HORAN Capital Advisors at (http://disciplinedinvesting.blogspot.com/)
Description: Registered Investment Advisor (RIA). Trading frequency: Monthly
Interests: Bonds, Dividend stock ideas & income, Mutual funds, Retirement savings, Stocks - long

Ph. Number:

513.745.0707
Location:

OH; USA
HORAN Capital Advisors
At HORAN, we protect your future, today. Our investment approach seeks to maximize growth of principal while employing strategies that minimize market volatility. We engage in top-down global market research and bottom-up securities analysis, focusing on companies that exhibit management strength, market
...
More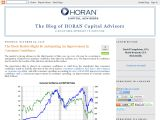 Currently, you have no book details. Click edit to add book details.
Latest comments on David I. Templeton, CFA's Articles