Host- OnlineMoneyShow.com -- The Online Money Show is done Live every Friday at 10am on Google+. The show features great guests and info on social media, online business and marketing, tech, current events and much more.
Online Money Show- http://OnlineMoneyShow.com
David Oldenburg Ultimate Real Estate Blog- http://www.housinguniverse.com/davidoldenburg
Linkedin Profile- http://www.linkedin.com/in/onlinemoneyshow
By day, I am a mortgage expert and real estate professional. I have helped more than 10,000 people buy, sell, refinance or invest in real estate. Much of this has been done through my talk shows and my mortgage and real estate company. I have extensive experience in short
...
More
sales, REO's, 1031 exchanges, property flipping, first-time buyers. We offer FREE consulting for anyone wanting to buy, sell, refinance, invest, relocate to or flip homes in California! Contact me anytime :-)

Branch Manager Paradise Mortgage: I started doing home loans and consulting people on buying, selling and refinancing California homes over 20 years ago. I handle FHA, VA, CONV and HARP loans, along with almost all other loan programs. Internet direct pricing, lower than the banks with personal full service from an industry expert! Contact me anytime...phone consultations are always FREE!

Talk Show Host: For 18 years I have hosted highly successful shows like the "Your Money" show and the "Online Money Show". Shows range in topics from stock market investing to internet marketing to real estate and mortgage planning to wealth building and everything in between.

Stock Market and Options Trader: I have been trading for 20 years and love trading options, stocks, ETF's, speaking about these topics on my shows and helping others who need help.

Internet Marketing: I am big into marketing and promoting, both online and offline. I have produced and sold my own products and services online and offline and have had millions of dollars in sales.

How can we help each other?
Description: Full-time Investor. Trading frequency: Daily
Interests: ETFs, Options, Stocks - long, Stocks - short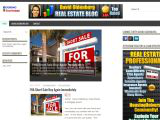 David Oldenburg Ultimate Real Estate Blog
GUEST BLOG ON MY BLOG!-- This is a newer wordpress multisite that I am building for the real estate community. If you are in real estate or mortgage or a related field, like title, appraising, wholesale lending, property flipping or investing etc..., let's talk and you can have a free website/blog and join
...
More
Currently, you have no book details. Click edit to add book details.
Latest comments on David Oldenburg's Articles