David Ott is a founding partner of Acropolis Investment Management, LLC., a St. Louis Wealth Management firm that currently manages approximately $1.1 billion for individuals, institutions and 401k plans. In addition to working with clients, David serves the firm in a variety of capacities including serving as Chief Investment Officer. The Committee sets asset allocation policy, selects individual stocks and exchange-traded-funds (ETFs) for the Approved List, and determines the broad fixed income strategy (duration, credit exposure, etc.) for clients.
Description: Registered Investment Advisor (RIA). Trading frequency: Infrequent
Interests: Bonds, ETFs, REITs, Stocks - long

Acropolis Investment Management, LLC
Acropolis serves three kinds of investors: Private Clients, Institutional Investors and Company Sponsored Retirement Plans (usually 401(k) plans). Each of these investor types wants to maximize returns while minimizing risks, but each requires a slightly different discipline. Private clients are comprised
...
More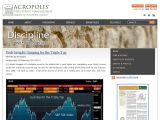 Acropolis Blog
Each week, Acropolis team members publish investment comentary on a variety of topics. Each day, Brent Vondera publishes Daily Insights, a complete analysis of the days economic news. Peter Lazaroff writes the Market Minute, a broad email covering investment and financial planning topics. Every Friday,
...
More
Currently, you have no book details. Click edit to add book details.
Hopefully, Buffet's other three potential candidates have better judgement than David Sokol. Lawful or not, it was a bad call all around.
Mar 31, 2011
Latest comments on David Ott's Articles