David Pinsen
x
Author Following Options:
See their articles on your Seeking Alpha homepage and in your feed.
Real-time alerts on this author
Get their new articles emailed to you as they are published.
Daily digest on all my authors
Get all your favorite authors' new articles emailed to you in one daily digest.
Send Message
I founded Launching Innovation, LLC, to bring together developers, designers, and academic finance experts to create easy-to-use tools to solve complex problems for investors.
Description: Other. Trading frequency: Infrequent
Interests: Options, Stocks - short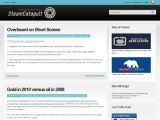 Steam Catapult
Occasional posts about business, innovation, investing, and other topics.
Currently, you have no book details. Click edit to add book details.
Latest comments on David Pinsen's Articles
Latest Articles on Portfolio Strategy & Asset Allocation