David Trainer
x
Author Following Options:
See their articles on your Seeking Alpha homepage and in your feed.
Real-time alerts on this author
Get their new articles emailed to you as they are published.
Daily digest on all my authors
Get all your favorite authors' new articles emailed to you in one daily digest.
Send Message
Follow me on Twitter: @NewConstructs
David is CEO of New Constructs (www.newconstructs.com), an independent research firm that leverages proprietary technology to find key insights from the Financial Footnotes of 10Ks and 10Qs. Having analyzed over 70,000 annual reports and their Financial Footnotes, New Constructs helps protect clients from the red flags/unknowns in SEC filings.
David is a distinguished investment strategist and corporate finance expert. He is a member of FASB's Investors Advisory Committee, and he is author of the Chapter "Modern Tools for Valuation" in The Valuation Handbook (Wiley Finance 2010).
David's insights into the markets and his stock picks have been popular with a
...
More
wide variety of media outlets.
Description: Hedge Fund Manager. Trading frequency: Monthly
Interests: Stocks - long, Stocks - short

New Constructs
Our patented Research Platform for reversing accounting distortions and discounted cash flow analysis leverages data from the Financial Footnotes to deliver research of unrivaled quality and accuracy. 1. Superior Recommendations - Our stock picks consistently outperform. See our track record in our
...
More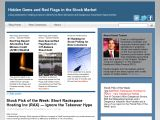 The Diligence Institute
Learn an insider's perspective on how to assess profitability and valuation. Having served my time on Wall Street, I know how the sausage is made and now focus on giving investors the whole truth about stocks.
Why does Goldman foresee "no stock market gains in 2016"? - and other morning reads for November 24:
http://bit.ly/1KOyk9C
2 days ago
Latest comments on David Trainer's Articles
Latest Articles on ETF Quick Picks And Lists