Dee Woo first gained international attention by writing a personal letter to Barack Obama in October 2010, attempting to dissuade the US from initiating a trade war with China. As a result, he was featured in much of the Mainland Chinese media, as well as in Hong Kong, Singapore, Macao, Malaysia, Canada and the US, including by the Wall Street Journal. Now he is an Economics columnist for many prominent magazines and newspaper cross the east and west.
Description: Professor.
Interests: Bonds, Commodities, Energy stocks, Forex, Gold, Mutual funds, Options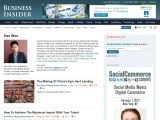 Citizen Economist Dee Woo
Recently,I have see many so called China experts writing about China's upcoming downfall. But the problem with these China experts is they don't even live in China consecutively for a substantial period to give their observation the depth. Their writing is merely an assembly line of China bear stuff from
...
More
Currently, you have no book details. Click edit to add book details.
Latest comments on Dee Woo's Articles
LATEST ARTICLES & INSTAPOSTS
more »