Del Stafford, CFA, is a Managing Director and Global Head of iShares Product & Investment Consulting, a group that consults directly with investment advisors to provide in-depth market and product expertise for iShares offerings, as well as customized portfolio consulting support. In this role, his team conducts bespoke client portfolio analyses to assist with asset allocation, risk evaluation and portfolio structure decisions. Del joined iShares in 2008, then part of Barclays Global Investors (BGI), which merged with BlackRock in December 2009. Del spent over 16 years at The Vanguard Group, where he recently worked with the firm's current and prospective defined benefit plan clients to structure custom investment
...
More
solutions. He also worked as Senior Portfolio Manager within Vanguard's Fixed Income Group, with responsibility for managing institutional, separately managed and stable value portfolios.

Del holds the Chartered Financial Analyst® designation and is a member of the CFA Society of San Francisco. He earned an MBA from LaSalle University and a BS in finance from Bloomsburg University.
Description: Mutual Fund Manager.
Interests: ETFs

iShares
iShares® is BlackRock's branded Exchange Traded Funds business with over 460 funds globally across equities, fixed income and commodities, and which trade on 19 exchanges worldwide. BlackRock, the parent company of iShares, is a leader in investment management, risk management and advisory services for
...
More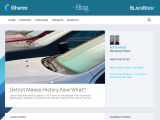 The Blog
Blackrock believes in openness, transparency, and honesty. It's how we fulfill our mission: empowering investors and investment professionals to achieve their goals. The Blog furthers that commitment, by providing visitors to the Blog with market insights and analysis from some of the preeminent thought
...
More
Currently, you have no book details. Click edit to add book details.
Latest comments on Del Stafford's Articles