DeWayne Reeves is the founder of CFRN and host of a popular radio program heard daily in over 20 countries. A former equities trader, he has focused primarily on the S&P 500 Emini Futures Market for the past 5 years. His insights and trading methodology are a blend of traditional technical analysis and the strategic use of proprietary indicators. He is the founding director of New Hope Orphanage and Primary School in Kampala Uganda East Africa which is home to over 800 orphans. Mr Reeves currently resides with his wife in Phoenix Az. where he actively trades his personal account.
Tune in M-F from 12pm-2pm Eastern for market analysis, technical tips and lively discussion. CFRN / http://www.cfrn.net
Description: CEO. Trading frequency: Daily
Interests: Commodities, ETFs, Gold, Mutual funds, Stocks - long, Stocks - short, Tech stocks

Ph. Number:

415-857-5654
Email:
Location:

AZ; USA
CFRN - Christian Financial Radio Network
For traders seeking hands-on instruction in a virtual classroom, we offer the CFRN Live emini trading room. CFRN wraps all of its proprietary trading systems, indicators, and methodology into this unique educational environment. Spend a full week with the CFRN team for FREE. Test drive our online platform
...
More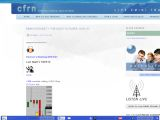 Christian Financial Radio Network
Join us Live in Real Time M-F from 9:30am-2:00pm EDT. We focus on the S&P Emini Futures Market. Real traders, making real trades, with real money.Take our 5 Day Free Trial in our Live Trading Roomhttp://cfrn.net/applyJoin us for our live daily radio broadcast - Now in our 6th
...
More
Currently, you have no book details. Click edit to add book details.
This week in the #ES #Euro #Crude #Bonds and our Sunday Night Q&A Session
http://bit.ly/1zEynlc
May 2, 2015
Latest comments on DeWayne Reeves's Articles