Dividends4Life
x
Author Following Options:
See their articles on your Seeking Alpha homepage and in your feed.
Real-time alerts on this author
Get their new articles emailed to you as they are published.
Daily digest on all my authors
Get all your favorite authors' new articles emailed to you in one daily digest.
Send Message
My entire career has been spent in industry within the finance and accounting realm. My career started in 1985 and has included exposure to implementing SFASs
Description: Other. Trading frequency: Monthly
Interests: Bonds, Dividend stock ideas & income, ETFs, REITs, Retirement savings, Stocks - long

D4L-Premium Services
The D4L-Premium Services consist of: 1. D4L-Dashboard For each stock that I track, I gather a significant amount of information – currently about 500 cells per stock. With over 230+ securities tracked, this is just too much information to quickly and efficiently digest. So I developed a color coded
...
More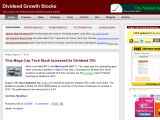 Dividend Growth Stocks
Dividend Growth Stocks is dedicated to the process of identifying superior dividend investments using a value-based approach. The site's focus is on stock analysis, dividend & value education, retirement planning and developing a positive winning attitude in life.
Currently, you have no book details. Click edit to add book details.
Latest comments on Dividends4Life's Articles
Latest Articles on Dividend Quick Picks & Lists
LATEST ARTICLES & INSTAPOSTS
more »