Don Dion
x
Author Following Options:
Ratings and expert commentary on the entire IPO process, including quiet period and lockup expirations.
Learn more»
See their articles on your Seeking Alpha homepage and in your feed.
Real-time alerts on this author
Get their new articles emailed to you as they are published.
Daily digest on all my authors
Get all your favorite authors' new articles emailed to you in one daily digest.
Send Message
Don Dion (donalddion@gmail.com, @DRDInvestments) is the owner and Chief Investment Officer of DRD Investments, LLC, based in Naples, FL. and Williamstown, MA., a family office focused on managing a long/short hedge fund, real estate assets, venture capital, and various other financial assets for the Dion family. Don no longer manages money for other families or institutions after selling Dion Money Management to NYC-based Focus Financial Partners in September of 2007 prior to the Great Recession. Don remains one of the largest individual shareholders of Focus Financial Partners.
Mr. Dion is the managing trustee of the Dion Family Foundation, which focuses on helping individuals with tuition assistance at
...
More
Catholic Institutions for grammar school, high school, and college education. The foundation also helps individuals by supporting health care institutions, particularly Massachusetts General Hospital. Don is on three leadership and advisory committees at Massachusetts General Hospital and the Home Base Program (a partnership between Mass General and the Red Sox Foundation). Don consults with Saint Dominic's Academy and served as a trustee of Saint Michaels College.

In addition, Mr. Dion is the retired publisher of the Fidelity Independent Adviser (http://www.fidelityadviser.com/) family of newsletters, which provided a broad range of investor commentary on the financial markets, with a specific emphasis on mutual funds and exchange-traded funds. With more than 90,000 subscribers in the United States and 29 other countries, Fidelity Independent Adviser published two monthly newsletters and one weekly newsletter. Its flagship publication, Fidelity Independent Adviser, was published monthly for 16 years and reached over 60,000 subscribers.

Mr. Dion is the sole founder and retired C.E.O. of Dion Money Management (http://www.dionmm.com/), a fee-based investment advisory firm for affluent individuals, families and nonprofit organizations, where he was responsible for setting investment policy, creating custom portfolios, and overseeing the performance of client accounts. Founded in 1996 and based in Williamstown, Massachusetts and Naples, FL., Dion Money Management managed over $900 million in assets for clients in 49 states and 11 countries, He fortunately sold the company to Focus Financial Partners on September 1, 2007 prior to the Great Recession.

Mr. Dion was the Chairman and C.E.O. of Litchfield Financial Corp. "LTCH" a NASDAQ listed company which he founded with Summit Partners in 1988. LTCH went public in 1992 and was acquired by Textron Corp. "TXT" in 1999 for $183M of cash consideration.

Don was the Executive Vice President, C.F.O., shareholder and General Counsel for Bluegreen Corp. "BXG" a NYSE company from 1986 to 1988.

Mr. Dion graduated with honors from Saint Michaels College in 1976 with a B.S. degree in Economics and Business Administration. He received his J.D. degree from the University of Maine Law School in 1979 and his LL.M. degree from Boston University Law School in 1982.

After law school, Mr Dion was employed as a tax and estate planning lawyer with the Boston firm of Warner and Stackpole from 1983 to 1985 and Ernst and Young as a C.P.A. from 1979 to 1983.

Recently, Don has been spending some of his time researching and strategizing about IPOs, building on his prior experience of successfully taking companies public and six strong years of U.S. IPO returns (2009 to 2015).

Mr. Dion can be reached at donalddion@gmail.com.
Description: Hedge Fund Manager. Trading frequency: Daily
Interests: Bonds, Cash Investments, Developed International Markets, Dividend stock ideas & income, ETFs, Energy stocks, Mutual funds, Options, REITs, Retirement savings, Stocks - long, Stocks - short, Tech stocks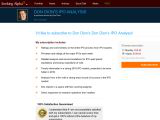 $
HELE
Expect upward move after the close today due to expected revenue and earnings beat
Jul 9, 2015
Latest comments on Don Dion's Articles
Latest Articles on IPO Analysis