Double Dividend Stocks
x
Author Following Options:
See their articles on your Seeking Alpha homepage and in your feed.
Real-time alerts on this author
Get their new articles emailed to you as they are published.
Daily digest on all my authors
Get all your favorite authors' new articles emailed to you in one daily digest.
Send Message
Robert Hauver publishes The Double Dividend Stock Alert, a monthly investment newsletter that features the best dividend stocks and option selling strategies for income investors.
TipRanks rates DoubleDividendStocks in the Top 25 of all financial bloggers.
The https://www.DoubleDividendStocks.com website also features High Dividend Stocks By Sector Tables, and Covered Calls & Cash Secured Puts Tables, a Dividend Stocks blog, and a a Stock Market News & Data page.
Description: Full-time Investor. Trading frequency: Weekly
Interests: Dividend stock ideas & income, Options, Stocks - long

Ph. Number:

866-487-7664
Location:

NY; US
The Double Dividend Stock Alert
"Finally...A Proven Money-Making System
That Combines Income Investing
With The Power Of Options..."
Give Us Just 5 Minutes, And We'll Show You
An Easy 3-Step Formula That Will Help You:
...
More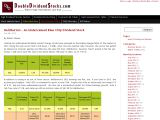 Double Dividend Stocks Blog
The Double Dividend Stocks Blog features weekly articles that focus on dividend stocks and selling Covered Calls and Cash Secured Put Options. Each dividend stock is compared to its industry peers, for Mgt. Efficiency, Earnings Growth, Valuations, and whether or not it's oversold or undervalued, in addition
...
More
Currently, you have no book details. Click edit to add book details.
Latest comments on Double Dividend Stocks's Articles
Latest Articles on Dividend Ideas
Latest Articles on Income Investing Strategy