Dr. Kris has two degrees from MIT because one just wasn't enough. Her life goal was to figure out the universe and having done that (at least to her satisfaction), she decided to tackle something even more difficult—the stock market.
Applying the scientific method along with an insatiably curious mind, she began trading stocks, futures, and options in order to find the holy grail to market success. She's discovered to her immense satisfaction that not only is there one way to succeed but many. Combining her love of cooking with the stock market, she's devised recipes for investment success designed to please the palate of most investors. Dr. Kris currently manages a private equity long/short portfolio and writes
...
More
of her current research projects that appear on her website, StockMarketCookBook.com.

Her most exciting project is applying market timing models to Modern Portfolio Theory to not only give greater returns but at substantially lower levels of risk. (See PortfolioPreserver.com for further information.)
Description: Writer. Trading frequency: Weekly
Interests: Commodities, Developed International Markets, Dividend stock ideas & income, ETFs, Energy stocks, Gold, Mutual funds, Options, REITs, Retirement savings, Stocks - long, Stocks - short, Tech stocks

Stock Market Cook Book
Stock Market Cook Book provides traders and investors with proven trading and investing strategies, market insights, and investment tips. Tens of thousands of investors and investment professionals have come to rely on Dr. Kris for for her expert technical eye on the market.
Via
...
More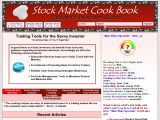 Stock Market Cook Book
Find easy to follow stock and options strategies applicable to today's market environment. Check out our mid-day market analysis to give you insight on probable market direction for the rest of the day..Novices & professionals will find something to whet their investing appetites. We're very user friendly.
...
More
Currently, you have no book details. Click edit to add book details.
Latest comments on Dr. Kris's Articles