Ina Steiner is an ecommerce analyst and editor of EcommerceBytes. She's been reporting on ecommerce since 1999 and is widely cited authority on marketplace selling. She wrote "Turn eBay Data Into Dollars" (McGraw-Hill 2006), and her blog was featured in the book, "Blogging Heroes" (Wiley 2008). Prior to founding EcommerceBytes, Ina worked for more than a decade in market research and publishing. Her research has been published by International Data Corporation. The EcommerceBytes website accepts advertising from companies marketing to online merchants including Google and Amazon. Follow her on Twitter at @ecommercebytes and send news tips to ina@ecommercebytes.com.
Description: Journalist.
Interests: Tech stocks

EcommerceBytes
EcommerceBytes publishes daily ecommerce news and analysis - read by merchants, vendors, marketplaces and analysts. Conference coverage includes the Internet Retailer Conference (IRCE), Search Engine Strategies, Shop.org, Etail East, Shop Smart Conference, Monsoon conference, and various developers
...
More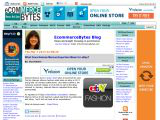 EcommerceBytes Blog
A unique and timely look at ecommerce trends from the online merchant and marketplace seller point of view. Indepth coverage of eBay, Amazon, Google, Facebook as well as mobile and social commerce and online shopping trends.
LATEST ARTICLES & INSTAPOSTS
more »