Elliott Morss has spent most of his career teaching and working as an economic consultant to developing countries on issues of trade, finance, and environmental preservation.
Dr. Morss received a B.A. from Williams College in 1960 and a Ph.D. in political economy from The Johns Hopkins University in 1963. He has taught at the University of Michigan, Harvard, Boston University, Brandeis, and most recently at the University of Palermo in Buenos Aires.
For several years, he worked in the Fiscal Affairs Department of the International Monetary Fund. He later helped establish Development Alternatives, Inc. (dai.com), a firm that became the largest contractor to the U.S. foreign assistance program (AID).
...
More
Since his first IMF assignment in Ghana in 1966, he has worked in 45 countries.

He has been the President of the Asia-Pacific Group, a British Virgin Islands for profit company with investments in Cambodia, China, and Myanmar. With Dr. Zhu Jia-Ming, he established Green China, an American NGO with the mission to increase the dialogue in China on the trade-offs between economic growth and environmental preservation.

Dr. Morss has co-authored six books and published more than 50 articles in professional journals.

He is currently available for consulting assignments.
Description: Occasional Investor. Trading frequency: Infrequent
Interests: ETFs, Mutual funds, Stocks - long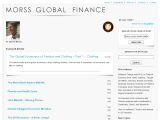 morssglobalfinance
While the primary focus is global finance, a second concentration is the global entertainment industry. The leading sectors in global entertainment are drinking, drugs, and sex (prostitution and pornography). Articles on these subjects and other entertainment sectors (including gambling) are also featured.
Currently, you have no book details. Click edit to add book details.
Latest comments on Elliott R. Morss's Articles