I am twenty-something investor who has a great interest in Dividend Growth Investing. Currently I am in the process of rebalancing my portfolio to more of a DGI approach. I began investing (admittingly foolish investing) when I was 20 and have learned so much in a short span of five years. I hope to bring a fresh take to the DGI contributor scene in the future as most contributors steer their work toward the baby boom and Gen X SA readers.
I enjoy reading articles written by DVK, Chuck Carnevale, RAS, RS, Bob Wells and all the others I am following. I truly appreciate the articles written by the younger SA contributors such as Tim McAleenan, Eli Inkrot and DGM.
Description: Compliance Manager. Trading frequency: Monthly
Interests: Dividend stock ideas & income, Retirement savings, Stocks - long
Currently, you have no company profile. Click edit to add a company profile.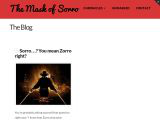 The Mask of Sorro
The Mask of Sorro is a newly minted blog that chronicles my adventures in personal finance & investments, personal fitness, and soon to be fatherhood. Join me over there and sit up your feet, fill up your scotch glass, (may be best to do this first if your lazy) and prepare to be entertained.
Currently, you have no book details. Click edit to add book details.
18% divy hike for $
IBM
is nice. Still closely watching the underlying business.
Apr 28, 2015
Latest comments on Erik Sorensen's Articles