Hi! I am Erik L. van Dijk, principal at LMG Emerge.
LMG Emerge is an internationally-operating institutional investment consultant with offices in the Netherlands and at Mauritius. Our clients are pension plans and other institutional investors, family offices and HNW individuals.
In close collaboration with our backbone partners LMG Capital (investment banking and private equity solutions), LMG Glocal (distribution and private client investment advice/tailor-making), Emirates NBD (MENA and Islamic Finance), Invest AD (Frontier Markets) and Banque Privee Edmond de Rothschild (Developed Markets) we can offer global investment solutions to well-informed investors.
We do advise on a set of
...
More
Luxembourg-domiciled and regulated investment funds (NHS LMG GLOCAL Funds; in close collaboration with Novacap AM) through which we roll out our fund-of-fund based investment concept.

Key element of our top-down approach is the asset allocation system that we built in close cooperation with Noble Prize Winner dr Harry Markowitz. During the last 5 years we have expanded the system in terms of number of asset classes and countries covered.

With now about 100 nations covered by the system, we have established ourselves a reputation as Emerging Markets specialists. We believe that the role of New Economies has become ...More much more important. Not just in terms of our money flowing into those economies, but also the other way round with wealth funds and other big investors from those countries investing here. Either through portfolio investments or M&A's.

We also provide our clients with asset manager selection services. Our recommendations are independent and transparent and based on thorough analysis of our manager database that contains more than 4,000 international managers with on average 5-10 products/strategies each. Our database backbone partners are eVestment Alliance (US) and Camradata (UK).

We believe in active management when possible and passive solutions when necessary. Part of our so-called GLOCAL approach is also that believe that local managers are best-equipped to capture the low-hanging fruits in markets.
Description: Registered Investment Advisor (RIA). Trading frequency: Monthly
Interests: Bonds, Commodities, Developed International Markets, Dividend stock ideas & income, ETFs, Energy stocks, Forex, Gold, Mutual funds, Options, REITs, Retirement savings, Stocks - long, Stocks - short, Tech stocks

Ph. Number:

+31302106167
Location:

Utrecht; Zeist
LMG Emerge
Implemented investment consultant with an established reputation in the Continental European Market, MENA-Africa, Russia-Central Asia and India. Our main focus is on Asset Allocation, Manager Selection and Emerging Markets. In all three areas of expertise our unique Asset Allocation system is of key
...
More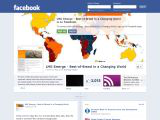 LMG Emerge - New Economies
The World is Changing. On a market-value-weighted basis Emerging and Frontier Markets are still relatively unimportant with an overall weight in the area of about 15 percent.On a GDP-weighted basis they are already far more important with a weight of more than 40 percent.We cannot close our eyes anymore for
...
More

Asset Pricing and Risk in Emerging and Frontier Markets
We are currently working on our Emerging and Frontier Markets book. Publication will follow in 2014. In this book we will help investors and corporate executives to get the most out of their Emerging and Frontier Markets activities. These markets are all but homogeneous and their complications do NOT
...
More
Latest comments on Erik van Dijk's Articles