ETFguide was born in 2003 with one goal in mind: to produce hand-crafted investment research that makes people money. And today, we serve over 15,000+ satisfied investors.
Put our experience and knowledge to work for you.
We'll send you a free "Portfolio Checklist"...just TEXT 33444 and TYPE "PORTCHECK"
Visit us @ ETFguide.com and check out the rest of our popular offerings:
--Portfolio Report Card (a free diagnosis of your investments)
--ETFguide Premium (what to buy, what to sell, and when to do it)
--Investment Advice (affordable investment advice from human advisors)
--Weekly Podcast (listen to us)
--Weekly Videos @YouTube
...
More
(watch us)

Ron DeLegge is inventor of the Portfolio Report Card grading system, the Founder and Chief Portfolio Strategist @ ETFguide and the company is based in San Diego, CA.
Description: Investment Consultant.
Interests: Bonds, Commodities, Developed International Markets, Dividend stock ideas & income, ETFs, Energy stocks, Gold, Options, REITs, Retirement savings, Stocks - long, Stocks - short, Tech stocks

ETFguide
We help people like you to make informed investment decisions. Get a free Portfolio Report Card and find out how your investments are really performing. Paid subscribers get ETF text alerts @etfguidepremium JOIN US!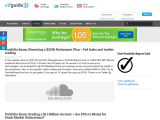 ETFguide
Read our latest take on portfolio strategies and global financial markets. Listen to our podcast at: http://www.etfguide.com/radio

Latest comments on ETFguide's Articles