FXstreet.com is the leading independent portal dedicated to the Forex market with more than 12 years of activity offering objective and high quality contents to traders from all over the world. Visitors will find Real-time rates and charts, an exclusive Forex News Feed, real-time Economic Calendar, Currencies at a Glance, Educational contents and Interactive webinars with top world-wide experts to help them take better and more confident decisions.
The main website is in English (www.fxstreet.com <http://www.fxstreet.com/>), but it is also available in 16 other languages (Spanish, Japanese, simplified and traditional Chinese, Russian, Arabic, Indonesian, French, Italian, Turquish, Vietnamese, German,
...
More
Hungarian, Portuguese, Korean and Catalan).

Visit www.fxstreet.com <http://www.fxstreet.com> for more information and tools or follow us on facebook.com/FXstreet and twitter.com/FXstreetUpdate.
Description: Independent / boutique research firm analyst.
Interests: Forex, Gold

FXstreet.com
FXstreet.com, the leading independent portal dedicated to the Foreign Exchange (Forex) market, was brought to life in January 2000 by its founder, Francesc Riverola, an economist from Barcelona (Catalonia), who moulded his original "home business" into a solid international company. Together with his
...
More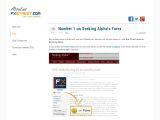 FXstreet.com Blog
In this corporate blog, the FXstreet.com team keeps you posted about what's new on the website, what has been released and what you should not miss! This is also the place  to keep in touch with the users, contributors and show the faces behind the company!
Currently, you have no book details. Click edit to add book details.
Latest comments on FXstreet's Articles