Gary Tanashian is proprietor of NFTRH.com and Biiwii.com. Actionable, hype-free technical, macro economic and sentiment analysis is provided in the premium market report 'Notes From the Rabbit Hole' (http://nftrh.com/nftrh-premium/). Complimentary analysis and commentary is available at the public sites (http://nftrh.com and http://www.biiwii.com) and by email with our free - and spam free - eLetter service (http://nftrh.com/free-eletter/).
Description: Investment Consultant. Trading frequency: Weekly
Interests: Bonds, Commodities, Developed International Markets, Dividend stock ideas & income, ETFs, Energy stocks, Forex, Gold, Stocks - long, Stocks - short, Tech stocks

Biiwii.com's Notes From the Rabbit Hole
As the name of the letter suggests, Notes From the Rabbit Hole (NFTRH) seeks to provide a view of financial markets that comes from a different place, sets us apart from the herd and gives us a leg up on gaining profits and preserving capital over the intermediate cycles. NFTRH subscribers include managing
...
More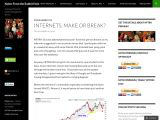 Notes From the Rabbit Hole
Not ready for a subscription to NFTRH? Subscribe to or visit the blog for free. Get 100% of the posts as opposed to the partial content posted here at SeekingAlpha. Get to know how I operate and you will be comfortable with the idea that I am not trying to sell you something you don't want. There is
...
More
Currently, you have no book details. Click edit to add book details.
Latest comments on Gary Tanashian's Articles