Gary Townsend - Founding member and Chairman, GBT Capital Management, LLC, a macro long/short fund based in Chevy Chase, Maryland. Also, 2007-2013, a founding partner, CEO and Portfolio Manager of Hill-Townsend Capital LLC, a long/short equity financial sector fund.
Mr. Townsend has 35 years banking, regulatory, and investment experience. He started his business career in 1978, as a consultant and advisor on anti-dumping trade issues primarily to foreign manufacturers based in Asia.
In 1982, he began a 15 year career as a U.S. government banking regulator. In 1990, he was recruited to build out a new, independent federal regulatory agency, the Federal Housing Finance Board, regulator of the Federal Home
...
More
Loan Bank System. As Chief Examiner and Director of Supervision and Examination, Mr. Townsend organized and implemented supervisory examinations of the 12 FHLBanks and Office of Finance with particular emphasis on their funding activities, use of derivatives, safety and soundness and regulatory compliance.

In 1998, Townsend joined FBR Capital Markets as a sell-side analyst, applying his banking and regulatory experience to the investment analysis of commercial banks of all market capitalizations. In 2007, Forbes.com named him as "Best Brokerage Analyst" for commercial banks; also Starmine ranked him the #2 earnings estimator (out of 109 analysts) and in the top 10% of analysts for stock picking and earnings accuracy.

Townsend left FBR in November 2007 to launch Hill-Townsend Capital LLC.

He holds a CPA designation (1999) and a MBA from George Washington University (1979).
Description: Hedge Fund Manager. Trading frequency: Daily
Interests: Bonds, Dividend stock ideas & income, ETFs, Options, Stocks - long, Stocks - short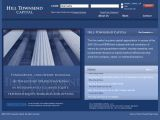 Listening to Markets
Discussion focuses on recent market action, news, and technical developments, with an emphasis on financial stocks.
Currently, you have no book details. Click edit to add book details.
Latest comments on Gary Townsend's Articles