George Acs
x
Author Following Options:
Put your portfolio to work for you with option and dividend income streams
Learn more»
See their articles on your Seeking Alpha homepage and in your feed.
Real-time alerts on this author
Get their new articles emailed to you as they are published.
Daily digest on all my authors
Get all your favorite authors' new articles emailed to you in one daily digest.
Send Message
I am a simple individual investor who believes that the playing field is level, but may require active management of one's holdings.
I've devised a series of steps that constitute a highly defined covered option strategy that most anyone can follow and that I've described in Option to Profit (2011).
Having retired from a career in Pediatric Dentistry, approximately 10 years ahead of schedule, after spending the previous 10 years working just 2 days each week, I now spend my time trading and alerting others of trading opportunities in large cap positions through the Option to Profit subscription service, a premium subscription service that provides actionable Trading Alerts via text messaging or e-mail
...
More
at www.optiontoprofit.com. as well as a Web site access only subscription plan.

The Option to Profit subscription service is now in its 4th year.

Now, the Web Access subscription plan is available through Seeking Alpha's "Marketplace." A listing of those articles can be found at https:​//seekingalpha.​com/account/research/subscribe​?slug=george-acs​

The subscription through Seeking Alpha also includes access to the full Option to Profit web mirror site at http://sa.optiontoprofit.com.

I want you to join me in making your stock portfolio improve the quality of your life. Whatever stage of life you are in, you can make your stocks improve that quality by putting them to work for you.
Description: Full-time Investor. Trading frequency: Daily
Interests: Dividend stock ideas & income, Options, Retirement savings, Stocks - long

Option to Profit
The Option to Profit Subscription service is based on the trading strategies outline in the book, Option to Profit.. There are two different subscription paths. A Web Access Only subscription or the more comprehensive Text message/email Trading Alerts subscription. Both subscription paths offer complete
...
More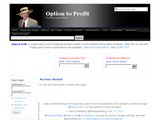 TheAcsMan
Option to Profit is the off-shoot of TheAcsMan blog . The site, a financial/humor site was was dedicated to the memory of a Holocaust Survivor with a uniquely bizarre sense of humor.The daily blog looked at the markets and the events shaping the day's activities in a humorous fashion.The blog is now
...
More

Option to Profit
Option to Profit ( http://j.mp/M8HheL ) shares the author's approach of getting an investment stock portfolio to work above and beyond its expected historical performance and chronicles the author's mindset evolution following his broker's untimely death. The author struck out on his own by putting into
...
More
Latest comments on George Acs's Articles
Latest Articles on Income Investing Strategy