Gregg Early is vice-president of KCI Communications and executive editor of the company's flagship publication, Personal Finance. Over the past decade, he has helped build the newsletter's reputation as a trusted source for penetrating market analysis and investment advice that subscribers can take to the bank. He also oversees the editorial department's other award-winning publications.
But Gregg's responsibilities and interests are not purely administrative. Always forward-looking, he found his niche reporting on the frontiers of technology: high-temperature superconducting, alternative energy, intelligence infrastructure, as well as advances in the nanotech and biotech sectors. For those willing to follow him
...
More
back to the future, he pens The Real Nanotech Investor, a financial advisory that focuses on how individual investors can capitalize on innovations in nanotech and disruptive technologies. Gregg's free e-zine, New Tech Investor, keeps readers updated on the latest advances and developments in these nascent sectors and, more importantly, the opportunities therein.

Prior to joining KCI, Gregg honed his journalistic chops reporting on a variety of topics including finance, health care and education. He is also a respected gastronome and chef as well as a published poet and playwright. He's a graduate of James Madison University.
Description: Newsletter Author. Trading frequency: Infrequent
Interests: Stocks - long, Tech stocks

Ph. Number:

703-905-8000
Email:
Location:

VA; USA
Portfolio2020
Portfolio2020's main mission is to keep its subscribers ahead of the curve. Its editors' decades of financial experience serve as a fine filter, sifting value from fad and fact from hype. The combination of initiative and intellect at KCI provides readers with the highest quality information and ensures that
...
More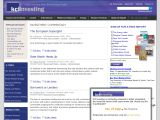 KCI Investing
KCI Investing has assembled a team of top investment analysts to create the finest financial news service possible. With well-developed research skills and years of expertise in their particular fields, our analysts provide quality information that few others can match.
Currently, you have no book details. Click edit to add book details.
Latest comments on Gregg Early's Articles