Harris Roen is a financial writer with a passion for understanding the economic activity of our interconnected world. His previous experience of over 15 years as a professional portfolio manager helps him ground-truth the hype through independent research and analysis, providing valuable information for readers.
Mr. Roen filters through numerous economic mainstream and specialty media reports, looking for clear, dependable information. Key economic data such as interest rates, investor sentiment, earnings and debt are constantly monitored to discern vital long-term market trends.
Independent thinking is used to distill data into trends that can be turned into actionable strategies. Individual companies
...
More
and mutual funds are examined in detail to see who rises to the top regarding present quality and, more importantly, positive future prospects. The Roen Financial Report has a specific focus in the energy arena, where high-quality companies that are building a future less dependent on coal and foreign oil are sought out.

The goal at the Roen Financial Report is to present expert content in a useful, affordable newsletter. The publication strives to make recommendations solely on clear, deliberate strategies in an understandable, helpful manner.
Description: Writer. Trading frequency: Monthly
Interests: Bonds, Dividend stock ideas & income, Mutual funds, Stocks - long

Swiftwood Press LLC
Swiftwood Press LLC is publisher of the Roen Financial Report. A monthly subscription based newsletter, the Report provides information on investing in high quality energy companies involved in the paradigm shift away from our dependency on foreign oil and coal. The Roen financial report also features a
...
More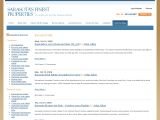 Roen Financial Report
Have you ever heard a financial news story and wondered what the implications were for your investments? Or just couldn't figure out what they were talking about? Did you ever want to turn to a trusted, independent voice to filter through the mass of information? Welcome to the Roen Financial Report. The
...
More
Currently, you have no book details. Click edit to add book details.
Latest comments on Harris Roen's Articles