Protecting and preserving capital over the long term is more important than growing capital. Particularly devoted to researching cheap stocks of high quality companies, GARP stocks, Magic Formula names, and stocks trading below intrinsic value. Participate long only without hedge when overall bull market is trading for a CAPE under 15 (Tobin's Q under .8X) or when blood is in the streets (not dip buyers), but strive to cut losers early when the facts change and refuse to marry long or short positions unless a "holding period of forever" makes sense. Hunches must be backed up by disciplined systems.
In fully valued markets, we prefer hedging via index options and light commodity trading/trend
...
More
following. Not interested in participating in latest fad or bubble. Prefer to short the bubble, but only after evidence suggests the bubble has popped.

Prefer to hedge any long positions in frothy markets utilizing a balanced long short equity approach in fairly valued markets. In undervalued markets, we need confirmation from market conditions and valuations in order to invest 100% long (or more) using in the money call options for leverage. Covered calls, calendar spreads, and other options strategies for capturing theta decay.

Cut losers on short side by using ITM put options instead of stock, trend following strategies if trading commodities (for diversification). Fundamental analysis but also technical analysis. Mathematical, disciplined trading strategies. Strive first off to be right about the overall direction of the market (bull or bear). Hold lots of cash when people are being greedy.

Nothing we publish here is a recommendation to buy or sell any security. Please consult your financial advisor before buying or selling any security.
Description: Family Office Manager/Analyst. Trading frequency: Monthly
Interests: Dividend stock ideas & income, ETFs, Options, Stocks - long, Stocks - short

Jaguar Alpha Fund, LLC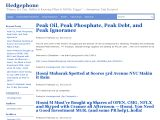 Hedgephone
offline for now... we predicted "perm-bubble" may pop at S&P 2100 and old Nasdaq 2000 highs before shutting down for "hibernation" during QE3... instead focused on rural land w/ waterwww.hedgephone.com
Currently, you have no book details. Click edit to add book details.
Just bought 15 $
TNA
March 86 puts and shorted some $
CRM
... Hate being bearish, HATE it, but math is math
http://bit.ly/giUywb
Feb 7, 2013
Latest comments on Hedgephone's Articles