At Invesco, all of our people and all of our resources are dedicated to helping investors worldwide achieve their financial objectives. It's a philosophy of investment excellence we call Intentional Investing®, and it guides the way we:
Manage investments. Our dedicated investment professionals search the world for the best opportunities, and each investment team follows a clear, disciplined process to build portfolios and mitigate risk.
Provide choices. We manage investment strategies across all major asset classes and deliver them through a variety of vehicles.
Connect with our clients. We're committed to giving you the expert insights you need to make informed investing decisions.
...
More

Invesco US Articles

The information provided is for educational purposes only and does not constitute a recommendation of the suitability of any investment strategy for a particular investor. The opinions expressed are those of the author(s), are based on current market conditions and are subject to change without notice. These opinions may differ from those of other Invesco investment professionals.
Description: Mutual Fund Manager. Trading frequency: Daily
Interests: ETFs, Mutual funds, REITs, Retirement savings

Invesco US
Our global resources include: -US$792.4 billion in assets under management around the globe.* -Specialized investment teams managing strategies across a wide range of asset classes and styles. -More than 750 investment professionals and more than 6,000 employees worldwide.* -On-the-ground
...
More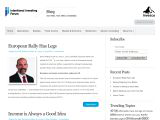 Invesco Blog
At Invesco, our investing experts are always thinking ahead about issues that could impact your clients' portfolios today – and tomorrow. Subscribe to our blog and read perspectives from portfolio managers, analysts, economic and market strategists, and retirement experts on topics that matter most to you and
...
More
Currently, you have no book details. Click edit to add book details.
Latest comments on Invesco US's Articles