I have been investing in the markets for the last 10 years. My strategies take advantage of the various moves the market makes through different economic cycles. In periods of Volatility, I will take trades that would last several days or weeks. During trending periods, I will take core positions that could last several months. I trade all asset classes and believe you have to be nimble in today's markets . You have to be able to deploy capital into the correct strategies and asset classes that will provide you with the best returns at that point in time.
I am an independent trader that formerly worked as an investment consultant for Wells Fargo. I currently own several wireless retail stores and fast food
...
More
businesses in the United States. I invest as part of my passion and to continuously educate myself and others.

I believe in educating new investors on how to properly invest in the market. I believe there is more than one way to make money in the markets. When I was first starting out, I was searching for the holy grail. What I found was there were several ways to make money in the markets. It is more about finding the right strategy that would fit the investor's personality than the strategy itself.
Description: Independent trader. Trading frequency: Daily
Interests: Bonds, Commodities, Developed International Markets, Dividend stock ideas & income, ETFs, Energy stocks, Forex, Gold, Mutual funds, Options, REITs, Retirement savings, Stocks - long, Stocks - short, Tech stocks
Investanomics
Investanomics is an educational company teaching investors and traders how to invest in todays volatile markets. Investanomics believes that in order to outperform the market you have to understand how the waves of the market shifts capital between various asset classes which cause different investment
...
More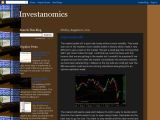 Investanomics
Investanomics was designed to provide insights into the markets movements and help investors learn the strategies to successfully invest in the markets.
Currently, you have no book details. Click edit to add book details.
Latest comments on Investanomics's Articles